Oct 14 2008
Josh and Anna grace the cover of TV Guide + SciFi Magazine
Be sure to tune in to an all new FRINGE tonight! You can watch the promo for the episode in the left side bar.
The Fringe craze is really taking off! Josh and his co-star, Anna Torv are featured on next weeks issue of TV Guide. We've got a preview of the cover to share and once I have a copy of the magazine, I'll be sure to post some scans: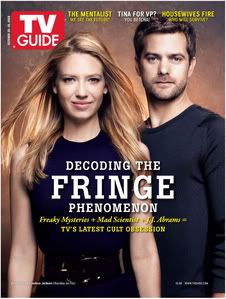 Click the image to view in full size
I think they both look great and it's wonderful to see so much buzz and press about the show!
Also, don't forget that Anna is on the cover for a Fringe related feature of SciFi magazine which is on newsstands now (or if you're like me, most likely not until Thursday. Ha!)